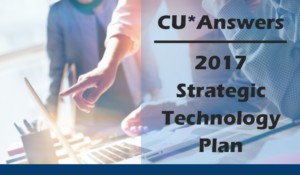 Our 2017 Strategic Technology Plan is now available for viewing!
Learn about our latest updates to CU*BASE as well as additional technologies and resources we are looking to focus on over the course of the coming year.
2017 Strategic Technology Plan
You can also refer to our 2017 Business Plan, for information regarding our vision and goals for this year, including our data processing strategies and the outlets that are available to our members.
CU*Answers is a Cooperative, just like the credit unions we support.  This has been a driving business model for our industry.  Cooperatives are built by their members, who fund and direct their credit unions through elections of leaders.  This in turn allows individual interests to align with community needs.  At CU*Answers, we 'walk the talk' – we believe in a cooperative business model.
CU*Answers encourages credit unions and CUSO to be inclusive of all owners when it comes to business plans and other business activities that owners might want to take an active part in. It is the defining characteristic of a cooperative; the community owns it, and should be treated with the respect owners deserve.