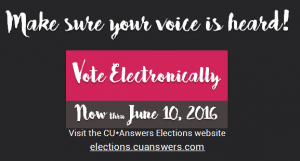 ATTENTION CU*ANSWERS STOCKHOLDERS WHO HAVE YET TO VOTE
Make sure your voice is heard!
Our records indicate that you have not yet voted in the 2016 Elections. You can vote electronically for board elections until June 10, 2016! Learn about what your voting for by visiting the CU*Answers Elections website elections.cuanswers.com.
Ready to vote?
All CEOs of stockholder credit unions received an email on Monday, May 2nd with instructions to vote by visiting https://cuanswers.simplyvoting.com/  (you can always change your vote during the Annual Stockholders Meeting on June 22).