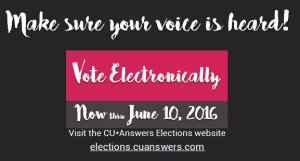 ATTENTION CU*ANSWERS STOCKHOLDERS
Make sure your voice is heard!
Vote Electronically for board elections May 2 – June 10, 2016! Learn about what your voting for by visiting the CU*Answers Elections website elections.cuanswers.com.
Ready to vote?
All CEOs of stockholder credit unions received an email on Monday, May 2nd with instructions to vote by visiting https://cuanswers.simplyvoting.com/  (you can always change your vote during the Annual Stockholders Meeting on June 22).