CU*Answers Has Online Training!
The CU*Answers Online University includes over a dozen of our most popular CU*BASE courses in an online, interactive format, as well as over 25 financial skills courses including compliance, fraud, teller soft skills and more.
Building A Power User
Put a can of paint into the hands of three different people and you'll get a finger painter, a housepainter, and a Michelangelo. Every credit union president that signs a data processing contract is hoping for a team of Michelangelos, but often ends up struggling with a bunch of finger painters. CU*Answers promise is to work very hard to develop a team full of master artists.
CU*Answers University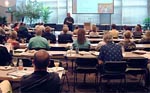 Education is not a hobby to CU*Answers-it is a critical investment. CU*Answers takes a very serious approach to user education, and takes advantage of every educational contact to maintain a close and interactive involvement with all CU*BASE users. CU*Answers University is not just training, it is a communication and development forum where every CU*BASE user has a voice in maintaining and developing ongoing data processing solutions.
From an average of 50 classroom sessions a month to open Internet classrooms through online learning, our educators work with over 3,000 credit union employees each year. There is never an invoice for employees to participate in CU*Answers education. Education is a joint investment by CU*Answers and its credit unions to meet the goal of developing CU*BASE power users.
Highlights
Five full weeks of CU*Answers University classes annually
Regional User Group Meetings held throughout the country
Workshops and hands-on configuration "labs"
Individual training at client or CU*Answers site
Online learning
Training Library: Bedrock Community CU
Proficiency testing and special tools for customizing your credit union's training curriculum
Specialized training for your CU*BASE "go-to" person through the CU*Expert Program
Reference and Training Materials
Developing a power user requires a support system to reinforce and improve skills every day. In addition to a full-featured on-line help system for CU*BASE GOLD, CU*Answers publishes topical reference materials on our web site, making valuable knowledge freely available to anyone, either within the CU*Answers Network or outside it, at any time.
Education is extended to members as well through a It's Me 247 on-line help system that explains home banking features and answers frequently-asked questions, reducing member reliance on credit union MSRs. Credit unions can even use this help as a standalone staff and member education tool.
With a full-time staff focused on the ongoing development of high-quality training and reference materials, CU*Answers documentation is second to none